The Benefits of Buying a Trolley Jack
There's no shortage of benefits to be gained from buying a trolley jack for raising your vehicle to change a tyre or your oil, and a host of other under-carriage duties.
Using this type of hydraulic jack is so simple - you just wheel it under your vehicle to the safest lift point and then activate the lifting mechanism by pumping the handle socket with an attached handle.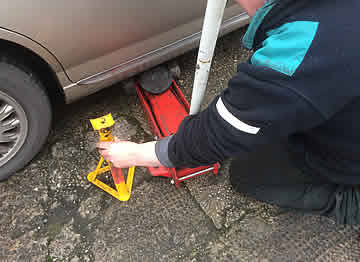 When the lift arm is near enough to make contact underneath your car or other vehicle you just need to double check the saddle pad contacts the appropriate lift point before continuing.
After you have carried out any maintenance on your vehicle, a pressure relief valve can be turned in order to relieve pressure from the jack's hydraulic cylinder, which will in then begin to lower the lift arm and your vehicle.
Trolley jacks are available in a range of styles and lift capacities, so it's easy to find one that suits your needs - if you have a small car you will be fine with a two-tonne jack, and if you have a larger car or a minibus, truck, van or SUV, for example, there are plenty of three-tonne or larger jacks to accommodate you.
These hydraulic devices are very reasonably priced when you consider the multitude of advantages they have over many other types of car jack - a cheap trolley jack will only cost around £20 to £40, although they are much more expensive models if you want to buy a top quality heavy-duty device.
Let's take a look of some of the benefits you will enjoy from buying a floor trolley jack.
Ease of Use: A hydraulic jack is easy to use and requires little physical effort to produce the tremendous lifting force that can safely raise your car off the ground. A mechanical jack, on the other hand, requires a lot of physical effort, especially when trying to raise a car that is near the maximum lifting capacity.
Excellent Lifting height: A decent quality hydraulic floor jack is likely to have an impressive maximum lift height or around 18 to 24 inches, giving it a far greater range of vertical lift than pretty much any other vehicle jack. In contrast, a standard scissor jack, for example, will probably have a maximum lifting height of around 15 inches. So a floor jack can raise your vehicle significantly higher off the ground, giving you more valuable room to work under your vehicle to carry automotive repairs and maintenance.
Easy to Manoeuvre: Trolley jacks can be moved around and below a vehicle with ease and precision due to the fact they have wheels or castors on the front and rear. Some devices feature a fifth wheel which enables quicker adjustments and easier placement. The wheels will normally contain ball bearings which allow them swivel up to 360 degrees, thereby enabling you to get the jack into the most awkward of spaces with minimal effort. This ease of access is something you won't achieve with many other types of car jack, including scissor or bottle jacks, which don't come with wheels.
Ground Clearance: These jacks are brilliant at getting under vehicles with a low-lying chassis. Any trolley jack will be able to get to work under a vehicle that some other jacks just can't handle - and low profile trolley jacks can slide in lower still, due to their special design. This makes them ideal for use with sports cars and racing cars.
Safe and Stable: The trolley jack is designed for safe car lifting and stability. Stability is gained through the base size of the trolley which is normally much larger than that of other types of jacks. The wheels can also help keep the jack in the correct position to prevent it from leaning over the way some other jacks do. You must never, however, rely on a trolley jack only to keep a vehicle raised to work under it - these are for raising only, not bearing weight for a period of time. You should always place axle stands below a vehicle after lifting it off the ground. It's also crucial to ensure these jacks are only used of a solid and level surface.
Solid and Robust: These jacks are heavy-duty workhorses that are built to last. They are pretty heavy and therefore the attached wheels are a must to allow the operator to easily move the device around. The solid build of trolley jacks means they can stand up to all the bumps and knocks they will encounter in any automotive repair garage or other location. If a trolley jack is going to run into trouble it will probably be as a result of a problem with the hydraulics side of things - the chances of the actual aluminium, steel or cast iron main body of a unit letting you down are unlikely - at least not before you have had several years loyal service from one.
Speed: A trolley jack can raise a vehicle very quickly and with very little physical effort, thanks to their hydraulic power - all that's required is a few up and down motions of the jack handle. Many other jacks, including scissor jacks, require a lot more effort operate via a less-appealing manual winding action.
Value for Money: These jacks are very affordable, considering how much power they pack and the precision parts inside them. You don't need to spend a small fortune to become the owner of a reliable piston-powered device that is likely to serve you faithfully for years. There are dozens of durable and dependable floor jacks in the £25 to £60 price range which will meet most people's needs. You can, of course, spend a lot more is your budget allows on a deluxe jack with a huge lifting capacity.
Easy to Clean: As you would expect, a trolley jack is likely to become oily, greasy and dirty after you've used it a few times. However, most areas of these devices are easily accessible and can be wiped down with a lightly-oiled clean cloth and. Some devices are coated with hard-baked enamel or a fully anodised finish which makes for easy cleaning and care. As well as cleaning a jack regularly, you should always ensure it is well lubricated and carry out oil changes when necessary. Make sure you use the type of oil specified by the manufacturer of your trolley to get the best out of the device.
A hydraulic trolley jack really is convenience on wheels. If used correctly and safely it can save you a bundle of time, energy and definitely reduce the frustration associated with some other types of jack when trying to access awkward areas . The benefits of owning one will become obvious to you soon after purchase and it will certainly be an investment you won't regret.