Introducing the Trolley Jack - Power at your Fingertips!
Hydraulic trolley jacks are mini marvels when it comes to raising cars and other heavy vehicles with ease - they are very solid and robust, simple and safe to operate, easy to maintain and can be wheeled around below a vehicle with minimal effort.
Trolley jacks - also known as floor jacks - have been a vital piece of equipment in car repair garages for years but these days more and car owners have opted to buy a trolley jack for tyre changes and DIY maintenance on their vehicles at home.
If you want to have peace of mind when it comes to safety and need to raise you car with speed and efficiency, then it's probably time to consider treating yourself to a hydraulic trolley jack.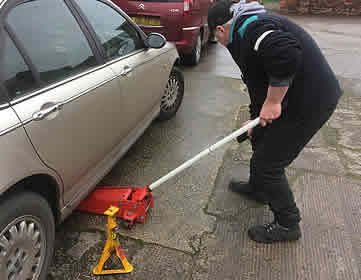 If you are thinking of buying a trolley jack, we provide all the information you need on the various types available - from cheap and simple light-duty low profile 1.5 or 2 tonne devices, for lifting a small to mid-size car, to deluxe heavy duty 3 or 4 tonne capacity jacks which are able to lift much heavier vehicles such as a pick-up truck, Land Rover, minibus, 4x4 or SUV.
These two-piston hydraulic lifting devices operate by converting the downward force applied to the handle - the location of the first piston point - into upward force at the jack's second piston point.
Trolley jacks are filled with lubricating oil, which does not oxidize metal. This oil is extremely effective in creating an excellent hydraulic system which intensifies most of the downward force applied to the handle by the user and then transmits it to the second piston.
These innovative jacks work very impressively on solid flat surfaces made or concrete, asphalt, tarmac or a similarly robust material - however, they are unsafe to use on softer, uneven surfaces such as sand, gravel or grass.
They are widely used in car garages throughout the UK for working under vehicles and are also found in the pits and workshops at motor racing tracks where they are used for a range of tasks, including quickly changing tyres and oil changes.
Have a trolley jack to hand for tyre changes and other tasks
Whether you want to rotate your tyres, swap winter ones to summer ones, carry out an oil change, change your brake pads and discs or even replace your car exhaust - then a hydraulic trolley jack is the ideal tool for the job. Most of these devices are fitted with wheels, making them easy to move to any area under a vehicle. Low profile trolley jacks, for example, are ideal for for vehicles with a low chassis or reduced clearance.
It's worth bearing in mind that, due to their weight, many of the heaviest trolley jacks are not suitable for carrying in your car to change a tyre when a puncture occurs. Large trolley jacks are much too heavy and bulky to be accommodated in the boot of your vehicle and are also not suitable for using on a gravel or dirt road when a tyre needs to be changed.
Lower capacity trolley jacks, however, are generally lighter and many can be placed in a car boot recess, alongside the spare tyre and other motoring accessories. Just remember, you will need to carry at pair of axle stands in your car also as a hydraulic trolley jack is only meant to lift a vehicle, not to support its weight.
A compact standard scissor jack is the choice of jack used by many motorists when trouble strikes when out an about in their cars. A hydraulic bottle jack is another option for a quick change of tyre and they are well-equipped to lift very heavy cars and other vehicles.
Trolley jacks are easy to use but it's worth reading the operating instructions carefully first and familiarising yourself with the various parts of the device and how it works. This will prevent you from running the risk of damaging the jack by operating it safely and correctly.
When you first use your new trolley jack it's essential to identify the jacking point of your car before one starts using a new hydraulic jack to raise it. The jacking point is the specific place designed to bear the weight of the car without any danger. The jack saddle is the lifting device and requires exact placement for maximum benefit.
It's crucial to have your jack resting on solid and level ground. Some people place a wooden plank underneath the jack for extra stability. The process of using a trolley jacks starts with the user disengaging the locking mechanism so the device can be pumped.
We discuss the benefits of owning a trolley jack in detail on this site, but here's just a few of them at a glance.